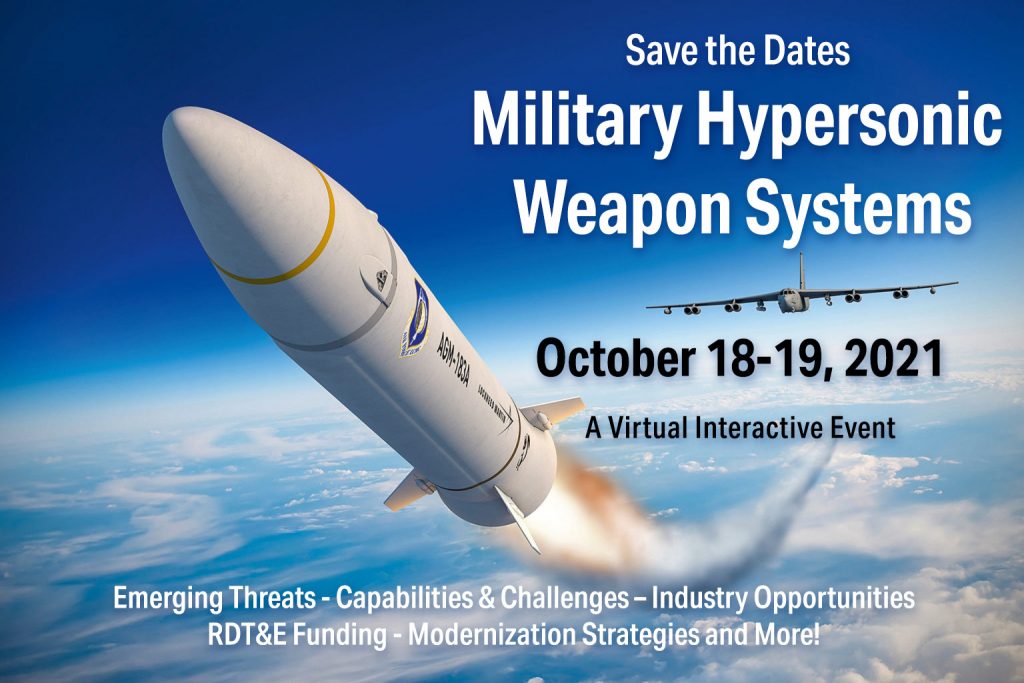 Hypersonic Weapons are accelerating the pace at DoD for the evaluation of potential weapon system concepts and mission sets. As DoD is preparing for $10 billion to enable fielding of Hypersonic Glide Vehicles (HGV) within the next five years, this has created a surge of a rapid R&D for Hypersonic Technologies. Hypersonic Glide Vehicles (HGV) are launched from a rocket before gliding to a target and alternatively, Hypersonic cruise missiles are powered by high-speed, air-breathing engines, or commonly referred to as "scramjets," after acquiring their target.
This two-day technical symposium was developed for DoD/Government and Industry Senior-level program managers, project leaders, technical directors, business development personnel, aerospace engineers, electrical engineers, scientists and others who must become familiar with emerging opportunities, needs and challenges within Autonomous Systems and Hypersonic Weapon Systems technologies. The audience will be comprised of about 40% industry and 60% government, primarily at the program Manager/director level and above. We hope to provide an agenda that will focus on systems, requirements, and technical challenges/capabilities, rather than deal with the technical "nuts and bolts."
All briefings will be at the unclassified level. No media will be permitted, no recording of talks and no distribution of materials will take place except to conference participants with prior approval from each Guest Speaker. All Guest Speakers are asked by TTC to follow the standard protocols for approval procedures for clearing their presentation materials.
Program Themes Include:
DoD Hypersonic Systems: Plans, Programs and Emerging Opportunities for Industry
Space Based Hypersonic Tracking Sensors & Ground Based Interceptor Capabilities and Requirements
Ground Launched/Ground Based Strategic Deterrents
Advancements in Hypersonic Glide Vehicles (HGV) & Long-Range SCRAMJET Missile Technologies
Hypersonic Defense Modular System Architecture and Industrial Engineering Challenges
Position, Navigation (PNT) Needs & Requirements
Read what some of our many satisfied prior attendees have to say about us:
The TTC Technical Symposia series provided a working group like setting with senior leadership and technical experts across government and industry. The event provided focus on challenges in the Hypersonic R&D domain in a setting that permitted the opportunity for in-depth discussions and Q&A.  It was a worthwhile event to attend and participate.
    » AGI
Speaker and material were outstanding
    » U.S. Army
Every aspect was very informative and enlightening
    » Manager, Titan/Jaycor
Excellent Presentation and a Knowledgeable Presenter
    » Logistics Engineer, Northrop Grumman
Very informative. The speaker's knowledge is invaluable in a program like this.
    » Booz-Allen Hamilton
Excellent! An expert's expert: Current to the day on what the topic is and what it is intended to be.
    » Logistics Officer, Naval Sea Systems Command
The speakers made a very dry subject entertaining. Thanks!
    » Logistics Systems Analyst, Dynamic Research Corp.
Excellent course! Well worth your time
    » Telecommunications Specialist, SPAWAR
This course covered all topics with a perfect level of detail. Overall a very interesting and well done seminar!
    » President, Digital Force Technologies
Outstanding Speakers – I would recommend this program to anyone
    » Johnell Z. Rodgers, DFAS-FSAIN
An Excellent Program!
    » Assoc. Director for Missile Technology, US ARMY Aviation & Missile Command
Excellent!
    » Northrop-Grumman, Marine Corp. Support Team Logistics
Excellent, I enjoyed the overall approach
    » CH 46/47 Requirements, Tech Data Specialist, Boeing Integrated Systems
Excellent
    » Product Support Manager, The Boeing Company 
Great Program, Very informative and relevant
    » Network Engineer, Scitor Corp.
Superb job of recruiting the government representatives who are the drivers for this industry
    » Program Manager, Ball Aerospace 
Outstanding! Tremendous job!
    » Manager, Business Acquisitions, Lockheed Martin Systems Integration
Very good Program!
    » SCM NCOIC, United States Air Force
Excellent
    » Chief Communications Architect, Lockheed Martin